Google Domains is a domain registration service offered by Google that allows users to purchase and manage domain names for their websites. It offers a simple and user-friendly interface for managing domains, as well as features such as privacy protection, email forwarding, and website building tools. Google Domains also integrates with other Google services, such as G Suite, making it easy to set up professional email addresses using a custom domain name.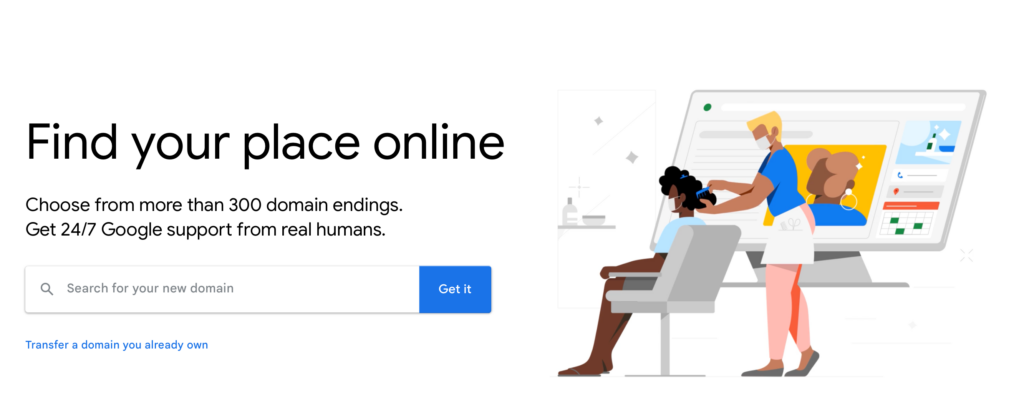 Buying your domain (URL) through Google Domains
Google Domains is a domain name registration service offered by Google. It allows users to purchase and manage domain names for their websites. With Google Domains, users can search for and register domain names, set up and manage email accounts, and customize DNS settings for their domain.
To purchase a domain through Google Domains, you can follow these steps:
Go to the Google Domains website and enter the desired domain name in the search bar to check availability.
If the domain name is available, add it to your cart and proceed to checkout.
If you already have a Google account, sign in. If not, create a new account.
Enter the required information, such as billing information and contact details.
Review the terms of service and click on "Agree and Continue".
Complete the payment process using the available payment methods.
After purchasing your domain, you can manage it through the Google Domains dashboard. You can also choose to use Google's email, website hosting, or other services in combination with your domain, or use it with a third-party hosting provider.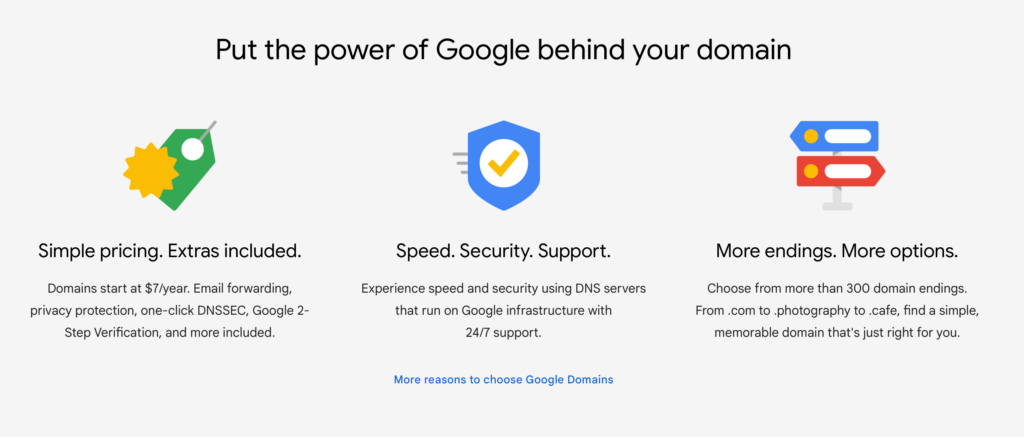 Google Domains & Gmail
Choosing Google Domains as your domain registrar can be a smart decision due to the access it provides to Gmail, one of the best mail service providers available. Google's expertise in email services is well-known, and by choosing Google Domains, you can easily set up email addresses associated with your domain. This means you can have professional-looking email addresses, such as info@yourdomain.com, which can create a better impression on clients and customers. Gmail also offers many features and integrations that can streamline your email management and productivity. Additionally, with Google's robust security measures, you can have peace of mind that your email accounts are protected from potential threats. Overall, having Gmail included with your domain purchase through Google Domains can provide numerous benefits and improve your online presence.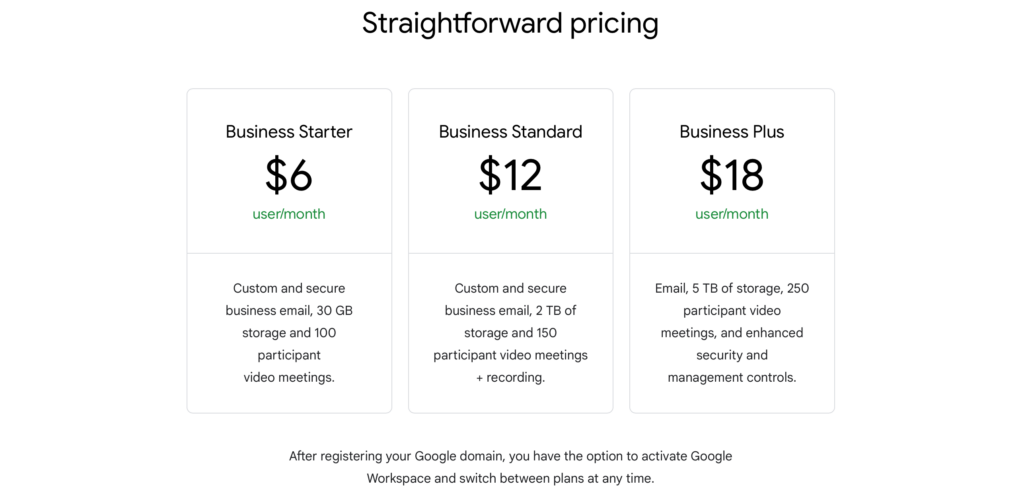 Google Domains/ Workspace, not only provide reliable hosting services but also give access to a host of services under Google Workspace. Google Workspace provides professional email, online storage, shared calendars, video meetings, and other collaborative tools that can help businesses run more smoothly. By using Google hosting, users can easily integrate their website with Google Workspace, making it simple to manage and access all the necessary tools in one place. In addition, Google offers excellent customer support and a reputation for being a trusted and reliable company, making it a great choice for those seeking high-quality hosting and business services.

At Netware Studio, we understand the importance of having control over your own domain name and how it can impact your online presence. We can help you purchase your desired domain through Google Domains, ensuring that you have full control and ownership over it. As a Google Ads Partner, we can also help you set up any additional services you may need for your business, including Google Workspace, to improve productivity and streamline your operations. Our team of experts can guide you through the entire process, from choosing the right domain to setting up and customizing your Google services, to ensure that you have a seamless and successful online experience. Contact us today to see how we can help you achieve your online goals.